Navigating Change: Stress Management Resources
These resources will help you maintain a healthy mindset in the face of the unknown.
Many of us are adjusting to  from home during the COVID-19 crisis. Click here to access an article from Business Insider that gives you ways to maintain your mental health and productivity while working from home.
Ryan Gertner, Ph.D., a consultant with Hollweg Assessment Partners, recommends this article on helping your spouse cope with work stress. Ryan's wife Sara is continuing to work in a supermarket to help keep Americans fed despite increasing her risk of exposure to COVID-19. Ryan is incredibly proud of Sara's willingness to step up and help manage this crisis by tirelessly working longer shifts.  For those of you in a similar position, we encourage you to check out this Harvard Business Review article that outlines how we can help our loved ones who are still working on the frontlines amid this pandemic.
Many of us are struggling to adjust to working from home. Add your significant other into the mix, and it can be a recipe for tension and more stress. This article from a Harvard Business Review contributor outlines the author's experience working from home with their partner/spouse during the COVID-19 pandemic.
If you are finding it difficult to remain positive during the current situation, check out Psychology Today's Embracing the Unknown resource pages. Psychology Today has collected articles that will help you manage your anxiety, control you fear, and not let the present crisis get the best of your mental health.
As you transition to a new normal, check out this article from the Center for Disease Control and Prevention. It will help you learn stress management strategies and coping mechanisms to get through this crisis.
Ryan Gertner, Ph.D., a consultant with Hollweg Assessment Partners, recommends this article from the New York Times because it outlines some ways that we can continue taking care of ourselves during this pandemic.  Click here to see some simple tips and strategies to manage your health and wellbeing.
Need a Laugh?
At a recent Hollweg Assessment Partners' virtual team meeting, Lori Bierman, our Managing Director, surprised us on our 9 AM "daily huddle" conference call. Click here to see another Maleficent look from Lori.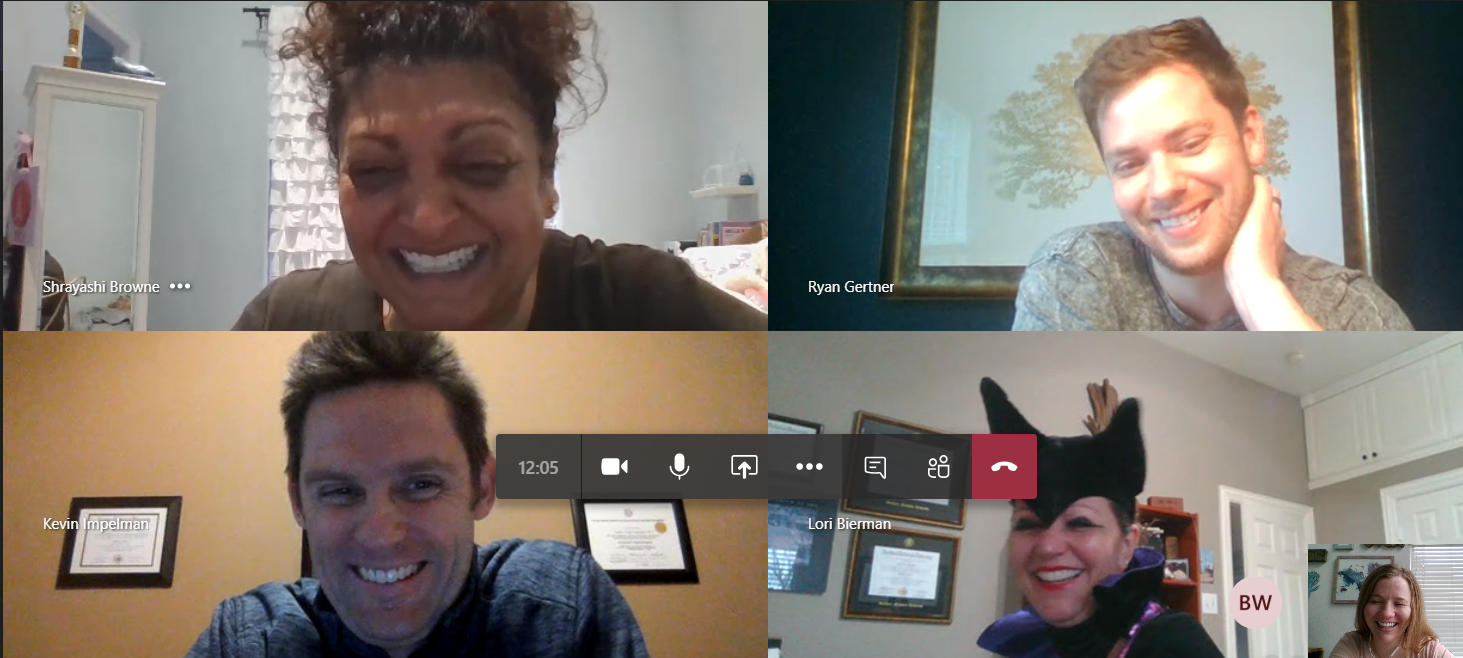 Keeping Up Morale Lori Bierman, Hollweg Assessment Partners' Managing Director, dressed up as Maleficent for a team conference call while working from home during the COVID-19 crisis. "The goal was to make [my team] smile… I think I accomplished that."